Dear Wine-Lovers,
In mid-September 2011, the steps were taken, and history was made. The traditional city Hammelburg Winery 'Schloss Saaleck' was opportunely bought by me (Ulrike) and my husband, Thomas.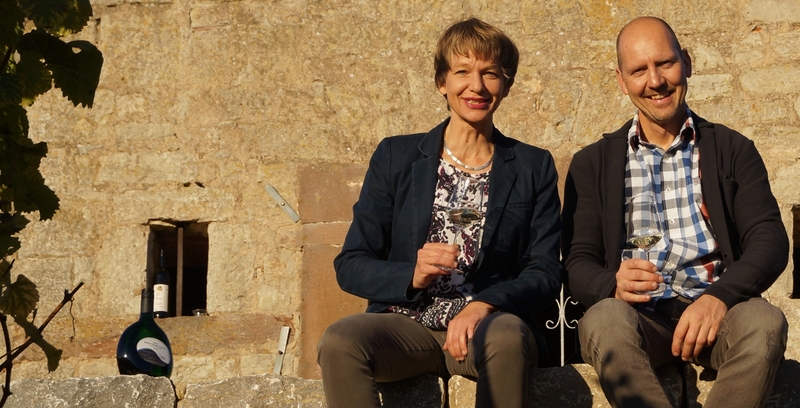 F Ulrike and Thomas
My wine connectedness has influenced me from an early age, having spent a large amount of time at my parents' estate winery. After obtaining my Diploma in Mechanical Engineering, Viticulture and Enology in Geisenheim, I became the manager of a wine cooperative. Afterwards, my path led me to various Frankish wineries and wine shops. With my husband in charge of operation, and our winemaker, Clement Rumpel responsible for the care of the vineyards and the cellar, we've got things well underway. Our winery 'Schloss Saaleck' is now run completely private. Our wines are marketed on site and through word-of-mouth. With our 18 hectares of self-managed vineyards, we create all of the wines in our winery. You can purchase our wines in our wine shop in the town hall located in the Hammelburg market square.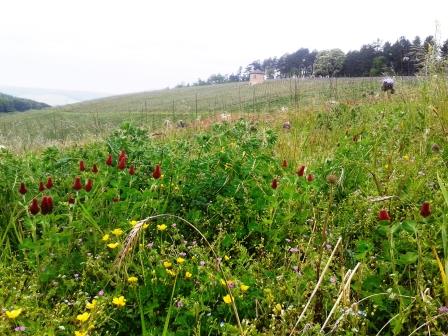 Look forward to a new era of Hammelburger wine.
The wine in 2018 has shown very exciting. The hot summer caused good grape maturation and thus the harvest began three weeks earlier than usual. Our grape-picking helpers were also back with full enthusiasm, working hard within our steep slopes. All of the fully mature grapes were harvested with high fructose content (Oechsle) and on the 1. October, we will reap the last grapes. Now, the high-quality musts are fermenting in the wine cellar.
We also integrate classical music during fermentation. We offer the lees soothing sounds of Mozart and other various types of relaxing music. Our wines are fermented by the vibrations of the sound, and the respective character is then uniformly and effectively brought to life. This music program continues throughout the year.


Carbon Dioxide from the bubbles in the wine tank



2018 – A good vintage, with a good quality!
Our organic vineyards located in the historic vineyard walls of the "Saalecker Schlossberg" have evolved throughout the years. Thanks to the intensive care of our winemaker, we were able to obtain healthy and perfectly ripe grapes of high quality. New herbs, such as mallow (malve), buckwheat and lupines (bluebonnets), flourished throughout the fall and over the winter months provided the soil with the proper nutrients that the vines needed.
In our organically farmed property, we avoid all synthetic pesticides and herbicides (weed killers). Our winemaker Klemens Rumpel has many years of organic viticulture experience, owning a small organic winery himself. He is also president of the "Franconian Ökowinzer" (organic winegrowing organization).
Have questions? Then come visit us at our wine shop in the town hall on the market square.
We look forward to seeing you.
Franconian Wine Regards,
Weingut Schloss Saaleck
Dipl.-Ing. Ulrike und Thomas Lange